Barolo is packed with tannin and acidity that allows it to pair best with flavourful dishes such as Prime Rib, Rib Eye Steak, Osso Buco, Cottage Pie, Veal Chops, Roasted Goose and Venison Stew.
Barolo is known as the king of Red wine as it is a bold and powerful red wine that can knock you out with its powerful tannin kick.  Barolo is also deceptive, as it looks feminine due to its light red hue and a floral nose of rose petals and tar.  Thus, one sip of Barolo and you will instantly understand why drinking Barolo has the reputation of 'Being Kicked in the Face by a Ballerina'.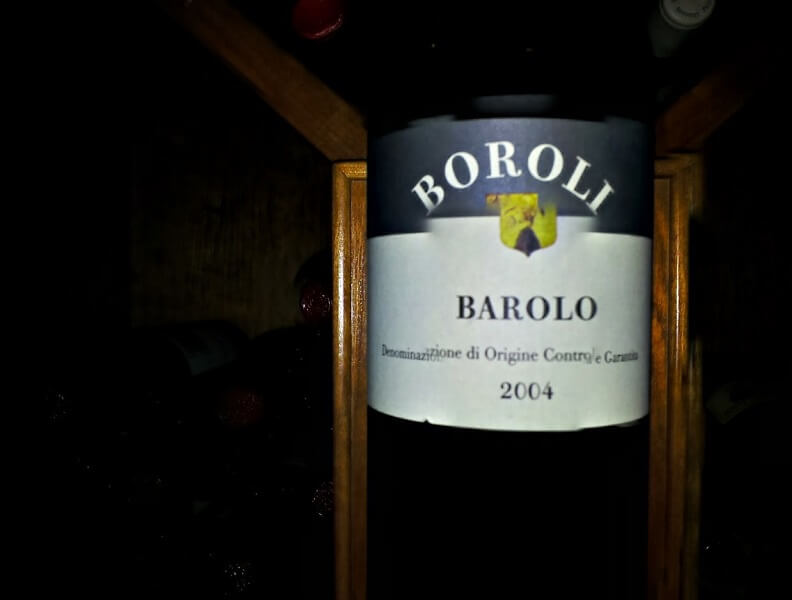 Made from the thin-skinned Nebbiolo grape, Barolo is also meant to be aged for a decade or two before enjoying.  Most people don't have the time or patience to wait and often drink their Barolo well before the wine has its prime.  In these instances, fatty and meaty dishes are a must.  Once Barolo is at its prime, leaner but flavour dishes can come into play, such as rabbit stew, wild boar ragù, pork chops, pasta Bolognese or a NY Strip Steak.
With Barolo, you'll find a variety of interesting and fascinating flavours to entertain your senses, such as sour cherry, cranberry, licorice, tar, mushroom, chocolate, earth and coffee.  The earthiness of Barolo makes it wonderful with mushroom dishes such as Mushroom Pizza, Beef Stroganoff, Pasta with Truffles or Wild Mushroom Risotto.  While incredibly tannic, Barolo also has medium to high amounts of acidity, which allows it to pair with dishes that are reasonably light with tomato sauce such as stews, pizzas and pasta dishes.
Barolo is also slightly sweet (not in terms of sugar but in dark fruit and dark chocolate flavours) and can pair up with several desserts like Gelato and Berries.  I would consider this pairing a 'happy accident' and would only pair up Barolo with a dessert should I have a little extra in my glass at the end of a meal.
Barolo hails from the Piedmont region in Italy and has been gaining popularity among wine enthusiasts year after year.  Many people often buy Barolo when they have a newborn baby and cellar the wine to enjoy with their child when they have graduated from College.  With the amount of prestige and royalty Barolo brings to the table, this is not an everyday drinking wine and should be reserved to celebrate a special event or paired with a decadent meal.
What Should Barolo Be Paired With?
| Varietal | Food | Rating |
| --- | --- | --- |
| Barolo | Truffles | |
| Barolo | Beef Braised | |
| Barolo | Castelmagno Cheese | |
| Barolo | Fontina Cheese | |
| Barolo | Gorgonzola Cheese | |
| Barolo | Parmesan Cheese | |
| Barolo | Game | |
| Barolo | Osso Buco | |
| Barolo | Venison | |
| Barolo | Wild Boar Barbecued | |
| Barolo | Wild Boar Roasted | |
| Barolo | Goose | |
| Barolo | Elk Steak | |
| Barolo | Ragù al Chingiale | |
| Barolo | Beef Stroganoff | |
| Barolo | Beef | |
| Barolo | Roast Beef | |
| Barolo | Beef Stew | |
| Barolo | Wild Boar | |
| Barolo | Butternut Squash Ravioli | |
| Barolo | Sweet Potato Pasta | |
| Barolo | Goat Cheese & Beet Ravioli | |
| Barolo | Robiola Cheese | |
| Barolo | Taleggio Cheese | |
| Barolo | Oxtail | |
| Barolo | Ribeye Steak | |
| Barolo | Pheasant | |
| Barolo | Rabbit Stew | |
| Barolo | Steak | |
| Barolo | Stew | |
| Barolo | Wild Boar Grilled | |
| Barolo | Pasta Bolognese | |
| Barolo | Shimofuri Teppan (wagyu steak) | |
| Barolo | Dobinmushi (matsutake mushroom soup) | |
| Barolo | Lamb Chops | |
| Barolo | Prime Rib Roast | |
| Barolo | NY Strip Steak | |
| Barolo | Rendang | |
| Barolo | Cottage Pie | |
| Barolo | Shepherd's Pie | |
| Barolo | Pizza with Mushrooms | |
| Barolo | Duck Breast | |
| Barolo | Beef Tartare | |
| Barolo | Mushroom Risotto | |
| Barolo | Risotto with Truffles | |
| Barolo | Pasta with Mushrooms | |
| Barolo | Duck Confit | |
| Barolo | Beef Carpaccio | |
| Barolo | Asiago Cheese | |
| Barolo | Gouda Cheese | |
| Barolo | Grana Cheese | |
| Barolo | Pecorino Cheese | |
| Barolo | Provolone Cheese | |
| Barolo | Romano Cheese | |
| Barolo | Stilton Cheese | |
| Barolo | Duck | |
| Barolo | Game Birds | |
| Barolo | Lamb | |
| Barolo | Roasted Lamb | |
| Barolo | Mushrooms | |
| Barolo | Porcini Mushrooms | |
| Barolo | Shitake Mushrooms | |
| Barolo | Wild Mushrooms | |
| Barolo | Steak with Black Pepper | |
| Barolo | Steak and Mushrooms | |
| Barolo | Steak Sirloin | |
| Barolo | Vietnamese Cuisine | |
| Barolo | Vietnamese Cuisine With Beef | |
| Barolo | Beef Carne Asada | |
| Barolo | Tripe | |
| Barolo | Charcuterie | |
| Barolo | Liver | |
| Barolo | Salami | |
Wild Boar Ragù & Aged Barolo Pairing

Ragù is a classic Italian sauce featuring ground meat, garlic, onions, tomato and red wine, which is served over pasta.  Similar to Pasta Bolognese, Ragù is featured more on the meat aspect of the sauce versus the tomato sauciness.  Barolo makes the perfect red wine with Ragù Sauce as it's high in tannin and acidity, thus it won't clash with the high acidity of the tomato sauce, and it will go great with the meat.
For Wild Boar Ragù (also known as Ragù al Chingiale), I'd recommend an aged Barolo.  Wild Boar is a leaner meat, which means it won't tame the tannin in a young Barolo unless you blend a lot of extra fat (such as cheese or olive oil) into your Ragù sauce.  To make this pairing even more bombastic, add mushrooms truffles to your Ragù sauce.  Barolo is famous for its truffle notes, and it will complement any mushrooms in your Ragù sauce.
Barolo also has a smokey current running through it that complements the sweet but smokey flavours of the wild boar meat.  Finally the dark fruit flavours of cherry, plum and raspberry keep your mouth refreshed, as well as complement the sweet aspect of the tomatoes in your pasta sauce.
For a younger Barolo, pair it up with a fattier Ragu sauce, or Pasta Bolognese dish, such as one with lots of beef.
Prime Rib Roast Beef & Young Barolo Pairing

Prime Beef Rib is the fattiest style of roast beef, and fat works wonders for taming the high astringency of Barolo's searing tannin.  Furthermore, the tannin in Barolo denatures or breaks down the protein molecules in your beef, making the meat taste even more delicious.
Barolo's rich dark fruit flavours, plus complex flavours of tar, truffle, tobacco, wood smoke, leather, and vanilla, bring a lot of intrigue to the meal, making for a memorable evening of food and wine.
For aged Barolo, you'll want to take a step down in the fattiness of your roast as the tannin in the wine will already be tamed.  However, in my three decades of serving wine, I've rarely seen anyone patient enough to wait the two decades before cracking open their bottle of Barolo.
Barolo and Ribeye Steak Pairing

Ribeye Steak is one of the most flavourful and juiciest steaks you can devour, and pairing it up with a young Barolo will make for a meal you will never forget.  Seriously, if I had a death row meal, this would be it, along with a side of sautéed mushrooms.
Remember that scene from Rocky, where he's in the meat freezer tenderizing that cow carcass?  Drinking a young Barolo is equivalent to getting smacked in the face.  Fortunately, all the fat and protein in a Ribeye Steak is going to tame that tannin down, so all the dark fruit, dark chocolate and earthy flavours of Barolo will shine through.  The tannin in the wine works in tandem as it breaks down the protein molecules in your Ribeye steak and makes the meat taste even juicier and flavourful.
Mushrooms are always recommend with Barolo, as aside from its vibrant cherry and raspberry flavours, you'll find notes of truffle, which will complement any mushrooms or earthy foods you serve on the side.  With the wine and steak being so flavourful, neither will ever overshadow one another.
For an aged Barolo, you'll want to select a steak that's a little leaner, such as a New York Strip Steak.  As Barolo ages, the tannins soften, thus you don't need such a fatty cut of steak to match up with this infamous red wine. Foraged Barolo, you can get away with NY Strip steaks cooked in the medium to the medium-well range, whereas with younger Barolo, you want medium-rare to rare steak, so there's more fat available to deal with the tannin.
Wild Mushroom Risotto and Barolo

Being a meat lover, I always viewed Risotto as a side dish, but given the chance, I could certainly enjoy this as a full meal.  Mushroom Risotto has a lot of creamy fat from butter and cheese that will soften the astringent tannin of Barolo.  This reduces the punching weight of Barolo and allows the wine to flood your taste buds with all its delicious flavours of plum, cherry, blackberry, raspberry, and dark chocolate.  Meanwhile, the earthy truffle flavours of Barolo complement the wild mushrooms in your Risotto, making for a wonderful marriage of food and wine!
Anything with mushrooms or truffles will go great with Barolo, including mushroom pizza, veal chops smothered in a truffle sauce, or pasta with mushrooms.
Venison Stew and Barolo Pairing

A rich, slow-cooked Venison stew is amazing with Barolo provided the stew has lots of fat to tame the tannin of a young Barolo.  You'll also want to toss in lots of earthy vegetables such as potatoes, mushrooms and carrots to complement the earthy truffle vibe that Barolo delivers.  The subtle smokey flavours of Barolo add even more depth to your stew and will have you feeling like you're eating your stew in a cozy cabin kitchen with a wood-burning stove.
If your Venison Stew is full of lean cuts of meat, an aged Barolo will be much more suitable as it will already have softer tannins and won't require much fat or protein to bring out the dark cherry, blackberry, leather, smoke, chocolate and white truffle flavours of Barolo.
For similar reasons, Barolo is also exceptional with beef stew.
Barolo Producers
Notable producers of Barolo include Brunate, Bussia, Cesare, Cannubi, Ginestra, Lazzarito, Mascarello, Rocche, Vietti, & Villero
Is Barolo a Dry Wine?
Barolo is a very dry wine.  Since Barolo is high in alcohol and packed with tannin, it would be considered bone-dry as it has a long, dry finish.
With bold flavours of raspberry, red cherry and roses, Barolo may have a perceived sweetness.  On the other hand, you'll also find notes of tar, truffles and clay, which are not sweet at all.
Is Barolo a Grape?
Barolo is not a grape.  Barolo is a region in Italy that uses the Nebbiolo grape.
Should Barolo be Decanted?
Young Barolo that is under 10 years should be decanted four hours before drinking it.  This will allow the flavours to come out as contact with air helps break down the astringent tannin.
Mature Barolo should be decanted for an hour, and then sampled to see if it requires further decanting.  Decanting mature Barolo will also assist with keeping any wine debris or sediment out of your wine glass.
What Temperature Do I Serve Barolo At?
Serve Barolo at 64-68°F or 18-20°C.  If Barolo is served too warm or too cold, the flavours will taste muted.
Why is Barolo so Expensive?
Barolo is expensive as it has grown in popularity with wine enthusiasts and it is relatively low in supply as it is only produced in the Piedmont region of Italy.  Barolo wine is also time-intensive.  The wine must be aged at least 18 months in a barrel, with another 3 years of aging before it is released on shelves.  Even then, the wine should be aged at least a decade before being opened.
The longer Barolo sits in a bottle, the more expensive it will become as 'time is money'.  So if you are interested in saving money on Barolo, buy it young, and invest in the time to age it for a decade, or two, or even five decades.
If Barolo is still outside of your price range, seek out a wines from Roero, which are much less inexpensive.  These wines are made from the Nebbiolo grape as well, and are produced in a town that is very close to Barolo.
Is Barolo a Super Tuscan?
Barolo is not a Super Tuscan.  A Super Tuscan is made in Tuscany, and Barolo is made in Piedmont.  A Super Tuscan refers to a red wine made in Tuscany that may be blended with non-indigenous grapes, such as Cabernet Sauvignon or Merlot.  The DOCG requires that Barolo is 100% Nebbiolo.
What Type of Glass do I Serve Barolo In?
The bigger the better!  Serve Barolo in a big bowl shaped glass.  You'll want lots of surface area so the wine has more contact with the air.  This will help break down the tannin and help the alcohol evaporate, allowing you to smell more of the wine's delicious flavours.