Acidic and smoky red wines like Chianti Classico, Barbera, Dolcetto or Zinfandel pair best with Bruschetta, as the balanced tannin of these wines won't clash with the acidic tomatoes on your Bruschetta.  For white wine, I'd recommend a dry Sauvignon Blanc, Riesling, or Rosé.  Pinot Grigio will also go well with Bruschetta, however, I find Bruschetta with a heavier garlic content will destroy the softer flavours of a Pinot Grigio.
Best Wines with Bruschetta
Chianti Classico & Bruschetta Pairing

Chianti pairs best with Bruschetta as this Italian red wine has plenty of rustic flavours to complement the garlic, tomatoes and olive oil spread across your toasty slab of bread.  With its flavours of earth, smoke, spice, herbs and tobacco, Chianti Classico tastes like what you'd expect Italy to taste like.  However, Chianti isn't all just bottled rustic charm, you'll also find refreshing notes of cherry, plum and blackberry, which wash away any lingering stabs of garlic in between bites.
If Bruschetta is served as an appetizer or starter to a larger feast, Chianti Classico will most likely pair up with the main dish as well.  Chianti loves beef, cheese, chicken, grilled steak, pork, pasta, pizza, lamb and anything served in a tomato sauce.
Italian Barbera with Bruschetta

Barbera is another terrific Italian red wine to pair up with Bruschetta. Highly acidic, with low tannin, Barbera is is a red wine that will not clash with the tomatoes on the Bruschetta.  Barbera is produced around the world, however, an Italian style of Barbera from Piedmont will consistently deliver plenty of notes of herbs, spice, and cherry that make it wonderful with Bruschetta.  The plush cherry and plum flavours  flavours complement the tomato, while the notes of herbs, toast, black pepper, smoke ,and mushroom blend in perfectly with the bread and toppings.
If your Bruschetta is only served as an appetizer, and you want your wine to also go with your main, Barbera is also excellent with chicken, hamburgers, pasta, pizza, baked ziti, and anything in a tomato sauce.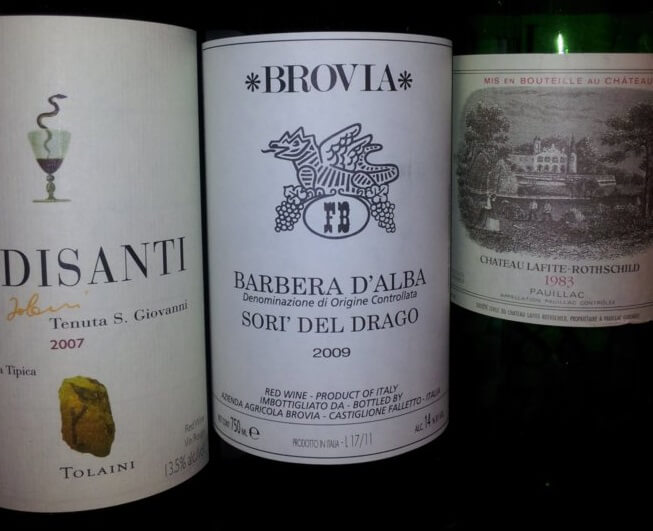 Zinfandel & Bruschetta Pairing

If you're not a fan of the rustic and herbal flavours of Italian red wine, select a mid-tier California Zinfandel to pair up with your Bruschetta.   California Zinfandel in the $18-$30 range typically has low tannin and medium acidity, which is perfect as the wine won't clash with the tomatoes on your Bruschetta.  Expensive Zinfandel tends to be higher in alcohol and tannin, which won't make them pleasant with Bruschetta.  These expensive variants of Zin will usually start in the $40 range, making it less likely for you to pick a bottle up if you're new to wine.
Zinfandel is often referred to as a fruit bomb as it explodes in your mouth with flavours of blackberries, black cherry cassis, raspberry, plum and strawberry.  These refreshing flavours help wash away the strong garlic, onions, and olive oil flavours that might be mixed into your Bruschetta topping.
Finally, with Zinfandel you'll also find notes of black pepper, toast, and smoke which gives you a lot to love about this pairing when matched with Bruschetta.
If you want a wine similar to Zinfandel, but less fruity and more rustic, try a Primitivo paired with your Bruschetta.  Primitivo is the same grape as Zinfandel (essentially), but with an Italian edge which complements the garlicky and herbal notes of your toasted Bruschetta.
Sauvignon Blanc paired with Bruschetta

Sauvignon Blanc is the best wine to pair with Bruschetta as it's herbily and acidic.  All that garlicky goodness in Bruschetta can wear your taste buds down fast.  This means after only a couple of bites, all the vibrant flavours of Bruschetta become muted as your mouth is clogged with the garlic-infused film of olive oil.
Furthermore, with Sauvignon Blanc being such a crisp white wine, the acidity cuts through all the garlicky olive oil maing each bite of Bruschetta to taste fresh.  The bright acidity in Sauvignon Blanc also makes the fresh tomato flavours and herbs pop.
While flavourful with notes of lime, grapefruit and lemon, Sauvignon Blanc secret weapon is its green herb and grassy flavours which complement the garlic and mesh brilliantly with the tomatoes on your Bruschetta.
Rosé Wine with Bruschetta

For Bruschetta on a patio or enjoyed as a light evening snack, a dry Rosé is the perfect wine pairing.
Rosé delivers light fruity flavours of cranberry, raspberry, cherry and strawberry, which are fantastic with the sweetish tomatoes in your Bruschetta mix.  The light fruitiness also washes all those garlic flavours away.  Rosé also has hidden flavours of white pepper, herbs, and mineral, which are further pronounced when blended in with the colourful onion and olive oil flavours of Bruschetta.