Pizza Rolls require acidic red wines, which are light and fruity such as Barbera, Chianti Classico, Beaujolais, or Lambrusco, to not clash with the tomato sauce in the pizza rolls. Sparkling wines with a hint of sweetness, such as Cava or Prosecco, pair well with Pizza Rolls because they assist to wash away the oily flavours which help keep your taste buds alert.
Pizza Rolls are found in the frozen food section, and are bite-sized breaded pockets of joy stuffed with tomato sauce, cheese and some sort of meat such as pepperoni or bacon.  Often, you bake them in an oven, but in a pinch, you can re-heat pizza rolls in a microwave.  Some pizza rolls even come with microwave ready packaging for extra convivence, which helps ensure the crust stays nice and crispy.
While Pizza Rolls are bite sized, you can also purchase larger pizza rolls called Pizza Pockets. With Pizza Pockets you will find much more variety in the ingredients.  For the most part, if the pizza rolls contain tomato sauce, all of the wines mentioned here will work.  If your Pizza Roll is sauced up with Alfredo sauce, skip the red wine and go with a sparkling wine, or pair it up with a Chardonnay or Pinot Grigio.
All of these wine pairings 4 out of 5 stars as there isn't much depth to Pizza Rolls.  Thus the Pizza Rolls do not enhance the wine, however, the wine pairing will make the Pizza Bites taste much more delicious.  While there are much better foods to pair up these wines, I do find that the wines mentioned below will add some pizzazz to your Pizza Rolls and improve the quality of your meal.
Best Wine with Pizza Rolls
| Type | Varietal | Food | Rating |
| --- | --- | --- | --- |
| Red Wine | Beaujolais Villages | Pizza Rolls - Pizza Bites | |
| Red Wine | Dolcetto (DOC) | Pizza Rolls - Pizza Bites | |
| Red Wine | Barbera (DOC) | Pizza Rolls - Pizza Bites | |
| Red Wine | Zinfandel | Pizza Rolls - Pizza Bites | |
| Red Wine | Pinot Noir | Pizza Rolls - Pizza Bites | |
| Red Wine | Chianti (DOCG) | Pizza Rolls - Pizza Bites | |
| Sparkling Wine | Cava | Pizza Rolls - Pizza Bites | |
| Sparkling Wine | Prosecco | Pizza Rolls - Pizza Bites | |
| Sparkling Wine | Sparkling Wine | Pizza Rolls - Pizza Bites | |
| Red Wine | Montepulciano d'Abruzzo | Pizza Rolls - Pizza Bites | |
| Red Wine | Sangiovese | Pizza Rolls - Pizza Bites | |
| Red Wine | Amarone | Pizza Rolls - Pizza Bites | |
| Red Wine | Montepulciano | Pizza Rolls - Pizza Bites | |
| Red Wine | Valpolicella Superiore | Pizza Rolls - Pizza Bites | |
Barbera & Pizza Roll Pairing

For an authentic Italian experience (well as authentic as you can get with pizza rolls), Barbera is a bright and fruity  wine to drink with Pizza Rolls.  Italian Barbera doesn't pack a lot of complexity but it is pleasantly fruity with lots of notes of  red and black cherries.  Barbera is also much lower in alcohol than many of the other red wines you'll see on shelves, and that's perfect if you are dining on Pizza Rolls amidst a video game binge where you don't want to get drunk.
Like most old-world wines, Italian Barbera has a hint of earthiness, and thus you'll get green herbal notes along with minerality which adds a touch of Italian authenticity to the not so authentic Pizza Pockets.  Not everyone appreciates this sort of herbal notes, thus, in North America, many of our popular red wines are artificially sweetened or flavoured to mask the green herbal and mineral flavours of the wine.  Since Barbera is only mild in its rustic flavours, it's a good little wine to dip your toe in the water if you want to expand your wine palate.
Barbera goes great with Pizza Rolls as this wine is higher in acidity than it is in tannin.  Acidity is essential when drinking red wine with tomato sauce as wine that are high in tannin will end up tasting metallic when they merge with the tomato sauce's acidity.  With an Italian Barbera, that won't be a concern as this tart red wine matches the tomato sauce's acidic perkiness.
The acidity of Barbera wine also helps cut through the grease of the Pizza Rolls, which ensures every bite-sized pizza pocket tastes delicious.  This helps you eat far less pizza rolls as you are satisfied earlier. Without wine, the first few Pizza Rolls taste fantastic, while the next handful taste bland.  This is because your taste buds are clogged up by the grease and cheese fats, and as such you'll keep stuffing food in your mouth, trying to capture that original magic. With Barbera, the problem is solved and each Pizza Roll tastes as delicious as the first.
Lambrusco & Pizza Roll Pairing

Lambrusco is fun and fruity Italian red wine, that is often slightly carbonated.  Thus, if you enjoy pop or beer with Pizza Rolls, the carbonation in Lambrusco might be a nice little starter wine to get you into the fascinating world of Italian wines.  Acidic, fruity and bubbly, Lambrusco also cuts through the grease, and complements the tartness of the tomato sauce.
In the past, Lambrusco was basically considered alcoholic pop that was reserved for Italian grandmothers.  Unfortunately the reputation that Lambrusco was cheap fruity booze packed with sugar still exists as you rarely see it mentioned any more.  That's quite the shame as modern Lambrusco has dialed down the sugar content considerably, and Lambrusco is now often dry or semi-sweet.  Semi-Sweet is what you'll want to pick up if you're a pop drinker as it means it has a kiss of sugar in it.  Dry Lambrusco, will however, still taste sweet due to its bright flavours of cherry, raspberry and strawberry. You will also get a touch of earth and violet which adds a bit of complexity to the mix.
Finally, Lambrusco is low in alcohol, which makes it perfect for meals where you don't want to spend the rest of the evening paralyzed on the couch from a mild case of drinking too much wine.
Pinot Noir & Pizza Roll Pairing

I am hesitant to write about pairing Pinot Noir with Pizza Rolls, not because it's a controversial pairing, but because proper Pinot Noir is not cheap.  Thus, Pinot Noir is an odd pairing as Pizza Rolls tend to be cheap and not overly complex, and Pinot Noir is the complete opposite.  While cheap bottles of Pinot Noir exist, I highly suggest you do not purchase them to pair with Pizza Rolls as you'll be missing out on so much.  Pinot Noir is not an easy grape to grow, and cheaper bottles tend to add artificial flavouring to make it taste more sweet or vanilla like.
Well-made Pinot Noir is a light and fruity red wine that tastes of wild strawberries, cherries and raspberries.  Old-world styled Pinot Noir is adored for its earthy funk of barnyard and forest floor.  In France, you'll see Pinot Noir referred to as Burgundy, and can run thousands of dollars per bottle for premium bottles.
You won't need to spend thousands or hundreds on a bottle of Pinot Noir, but I do recommend you spend $35 or more.  New Zealand, France, Oregon, and California produce bottles in this range which are quite delicious.  The incredible mix of fruit and earthiness on the nose will keep you enthralled as you explore all of the various aromas within.  Coffee, mushroom, herbs, leather, roses, smoke, cola, cinnamon and even chocolate can be found in bouquet of Pinot Noir.
Zinfandel & Pizza Roll Pairing

For a true North American experience with your Pizza Rolls, a medium-bodied Zinfandel is an exceptional choice.  California Zinfandel is the fourth of July packed into a wine bottle.  Fruity and smoky, there's nothing subtle about Zinfandel.  Especially a high-priced Zinfandel which will also be high in alcohol and even fuller in flavour.  (but I'd suggest you keep this style away from your Pizza Roll as it will overwhelm them completely)
Red Zinfandel is often referred to as a Fruit Bomb due to its vibrant flavours of of raspberry, blackberry, plum, blueberry, and strawberry.  You'll also find touches of black pepper and smoke which work well with the pepperoni in your Pizza Roll. A medium-bodied Zinfandel will be low in tannin and higher in acidity which means the  Zinfandel won't clash with the tomato sauce.
Zinfandel gets along great with all sorts of BBQ sauces, as well as Ketchup, which is something you might be dipping your Pizza Rolls in to.  Zinfandel is also a great wine to bring to a small gathering, where Pizza Rolls are part of a buffet that might also include Chinese Take-out, hamburgers, ribs, sausages and hotdogs.  Edmeads, Ravenswood and Frog's Leap make some of my most favourite Zinfandels.
You can also find White Zinfandel, which will also go fine with Pizza Rolls, but expect a much sweeter wine.
Prosecco & Pizza Roll Pairing

Prosecco is an Italian sparkling wine that is perfect for occasions where you are binge eating Pizza Rolls on your couch or for intimate gatherings where you're serving Pizza Rolls as a snack.
Citrusy in flavour, along with subtle notes of pear, apple and toast, Prosecco tastes clean and refreshing, meaning it keeps your palate cleansed in between bites of your Pizza Rolls.  You can buy Prosecco bone dry or slightly sweet, and both styles will pair up with Pizza Rolls just fine.  For gatherings, I like my Prosecco a little sweet as, along with the bubbles, it adds a lot of fun to the evening.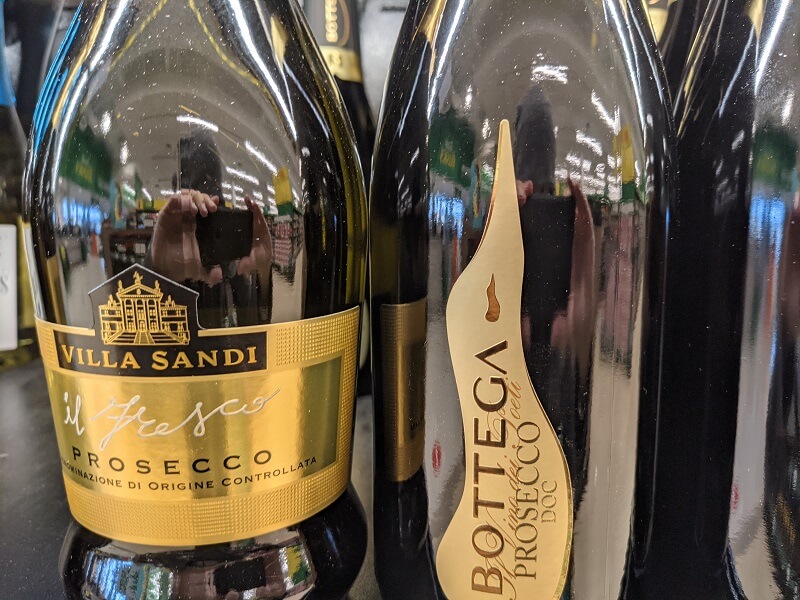 Prosecco lends a bit of sophistication to pizza rolls because many people refer to any sparkling wine as Champagne, which irritates us wine snobs, but it's fantastic for deceiving people into believing you spent a lot of money when Prosecco as inexpensive.  Champagne is only produced in France's Champagne region and has a long history of excellence. Sparkling wine can come from any part of the world, and it refers to any wine with bubbles.
Pizza Rolls pair well with a fun and bubbly bottle of Prosecco because the sparkling wine removes the grease and salt from your taste receptors, making each bite taste like bliss.  So for your next game night, or night alone on the couch rewatching The Office for the 7th time, give Prosecco and Pizza Rolls a chance.