Chicken Alfredo pairs best with fruity but dry white wines such as Orvieto, Pinot Grigio and Chardonnay, or acidic and light red wines such as Barbera, Beaujolais and Pinot Noir.  Alfredo Sauce is a rich and creamy pasta sauce that you can buy in a jar or make at home using cream, butter and Parmesan cheese.  Chicken Alfredo is usually Chicken and Fettuccini tossed in Alfredo Sauce, making for a creamy protein, fat, and carbohydrate dish.  As Alfredo sauce is fatty, acidic wines are a must, as the acidity in the wine cuts through the fat so you can taste the chicken and pasta in every bite.
Best Wine with Chicken Alfredo
| Type | Varietal | Food | Rating |
| --- | --- | --- | --- |
| White Wine | Mâcon - White Burgundy | Chicken Alfredo | |
| White Wine | Puligny-Montrachet - White Burgundy | Chicken Alfredo | |
| White Wine | Orvieto (DOC) | Chicken Alfredo | |
| White Wine | Chardonnay | Chicken Alfredo | |
| White Wine | Viognier | Chicken Alfredo | |
| White Wine | Pinot Bianco | Chicken Alfredo | |
| Sparkling Wine | Prosecco | Chicken Alfredo | |
| White Wine | Coteaux de l'Aubance | Chicken Alfredo | |
| White Wine | Soave Classico | Chicken Alfredo | |
| Sparkling Wine | Sparkling Wine | Chicken Alfredo | |
| Rosé | Rosé | Chicken Alfredo | |
| White Wine | Chardonnay, Unoaked | Chicken Alfredo | |
| White Wine | Pinot Grigio | Chicken Alfredo | |
| Red Wine | Pinot Noir | Chicken Alfredo | |
| Red Wine | Barbera DOC | Chicken Alfredo | |
| White Wine | Riesling | Chicken Alfredo | |
| Red Wine | Beaujolais | Chicken Alfredo | |
| Red Wine | Lagrein | Chicken Alfredo | |
| White Wine | Sauvignon Blanc | Chicken Alfredo | |
Chardonnay and Chicken Alfredo Pairing

A full-bodied and rich Chardonnay is decadent with Chicken Alfredo as the creamy texture and buttery flavours of the wine complement the Alfredo sauce. Meanwhile, the crisp apple, pear and tropical flavours in Chardonnay will cut through the sauce and highlight the chicken.
I am only giving this pairing 4 out of 5 stars as not every Chardonnay is made equal.  A Chardonnay that is too oaky might overwhelm the chicken or make the Alfredo Sauce taste too woody or sweet.  Furthermore, there are wine producers who cheap out when it comes to Chardonnay and often use wood chips, which can make the buttery flavours taste like rancid popcorn.  Thus, for this pairing to work, seek out a mid-range Chardonnay from California or France known for their quality, such as white Burgundy like Mâcon, Puligny Montrachet, or a Mendocino Chardonnay from California.
Meanwhile, a Chardonnay lacking in oak will pair up just fine, but you won't have any complementary buttery flavours.  This isn't such a crime as hints of apple, mineral and tropical fruit will make the Alfredo Sauce sing while bringing out the best in the chicken and pasta.
Orvieto and Alfredo Sauce Pairing

Some folks consider it a punishable crime not to have Italian wine with pasta.  It's as if they fear some elderly lady will rush out of the kitchen and rap their knuckles with a wooden spoon, for drinking anything that isn't remotely Italian.  If this fear keeps you up at night, Orvieto paired with Chicken Alfredo is the match made for you.  Orvieto is a crisp, dry white wine from Italy featuring citrus, peach, pear, green apple, and almond flavours, along with a mineral finish. The sublime fruit flavours cut through the richness of the Alfredo sauce where they can then embrace the chicken, while the almond and hazelnut notes bring out the nuttiness found in the pasta and Parmesan Cheese.
Orvieto can be a tricky wine to buy as is a blended white wine, which is why I give it four out of five stars.  Different wineries will use different ratios of grapes, which will change the profile.  If you are striving for more pronounced flavours, seek out an Orvieto Superiore, which will be a bit richer in flavour and slightly higher in alcohol.
Orvieto producers I recommend include Antinori, Bigi, La Carraia, and Ruffino.  You'll also want to ensure you buy the dry style of Orvieto as sometimes this wine is made sweet.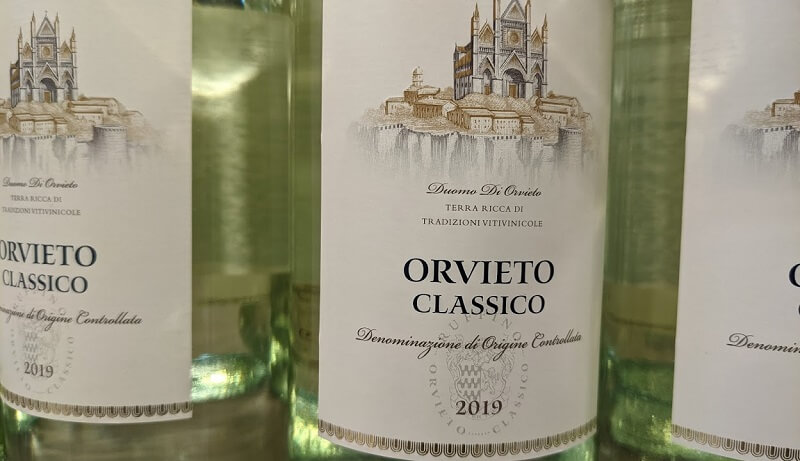 Italian Pinot Grigio & Chicken Alfredo Pairing

Pinot Grigio is a subtle and crisp white wine with flavours of peach, white flowers, mineral, smoke, pear, citrus and lemon.  While there are better white wines to pair up with Chicken Alfredo, Pinot Grigio is a crowd pleaser.  If you are holding a dinner party, Pinot Grigio will always go over well with Chicken Alfredo.  On the other hand, even if you are dining out, Pinot Grigio is certain to be on the wine list by the glass.
While Pinot Grigio won't complement any of the flavours in Chicken Alfredo, this crisp white wine will keep your mouth refreshed in between bites.  The issue with Alfredo Sauce is that it is rich and fatty.  Thus, on top of clogging your arteries, it also clogs up your taste buds, muting flavours over time so that everything after three or four bites begins to taste bland.  Pinot Grigio solves this problem, as the acidity of the wine whisks in and scrubs the fat off your tongue.  Hence, you end up eating less, as you are satisfied much earlier.
Pinot Grigio from other countries, such as a Pinot Gris from France or California, will also go well with Chicken Alfredo, but expect a bolder wine.  Pinot Bianco from Italy is also highly recommended as it has a creamy and nutty body along with the crisp fruit flavours of Pinot Grigio, however, Pinot Bianco is much harder to find in restaurants or on shelves in North America.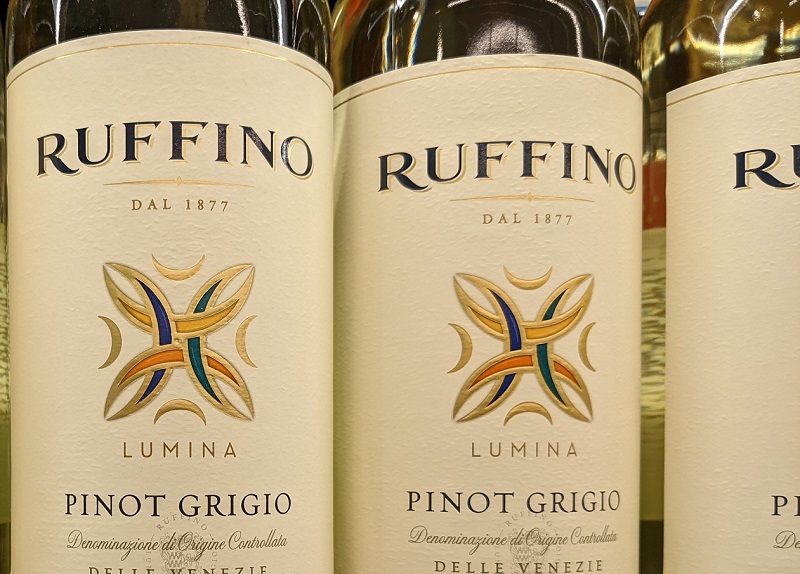 Pinot Noir and Chicken Alfredo with Mushrooms Pairing

If your Chicken Alfredo contains mushrooms, Pinot Noir is a fabulous red wine to reach for.  Light and fruity, Pinot Noir is loved for its fresh strawberry and cherry flavours.  Yet, there is also an earthy funk to Pinot Noir that gives it depth, elegance and balance.  The fruity and acidic body of Pinot Noir ensures that this red wine can cut through the rich Alfredo Sauce.  Meanwhile, the forest floor flavours will complement the mushroom notes in the dish.
Good Pinot Noir is often accompanied by a high price tag as Pinot Noir is not a wine that can be made cheap.  A lot of care and attention go into making Pinot Noir that produces amazing results, but it ends up costing the winemaker a lot of money.  Thus, if budget is an issue, don't skimp for the cheapest Pinot Noir (or anything under $25), or else you won't be amazed by this pairing.  Instead, go for one of the other red wines on our list, such as a Beaujolais or Barbera, which will be much more affordable.
Barbera d'Asti & Chicken Alfredo Pairing

Barbera d'Asti is is an Italian red wine that is low in alcohol, acidic, and rich with fruity flavours of cherry, plum, raspberries and raisin. The acidity of Barbera cuts through the creamy Alfredo sauce, while the fruitiness offers a refreshing contrast.
Barbera d'Asti is also rustic in that it has herbal and earthy notes of black pepper, spice, mushrooms and smoke.  Not everyone appreciates these rustic flavours, and North American drinkers tend to be turned off by them.  Thus, if you were holding a party and serving Chicken Alfredo, you might want to spring for a fruitier Beaujolais from France if you feel like your guests might not be into an earthier wine.  That's not to say Barbera d'Asti taste likes dirt, I just wouldn't write it off as a popular or trendy red wine in North America as we tend to like things that taste fruity and fresh.
If you want to stick to Italian reds, my suggestion would be to prepare your Chicken Alfredo with mushrooms (you can always add them as a side dish if you want to keep your Chicken Alfredo as plain as possible). Your guests probably won't notice the rustic notes as the wine and mushrooms will complement one another while the fruity flavours of Barbera d'Asti will keep your mouth refreshed.
Barbera d'Alba is another popular style of Barbera in Italy. Barbera d'Alba differs from Barbera d'Asti in that it is richer and less acidic. Barbera d'Alba will get along fine with Chicken Alfredo, however, it won't be as refreshing, and the rustic flavours will shine deeper.