Penne alla Vodka pairs best with fruity and acidic red wines such as Barbera, Chianti Classico, Primitivo and Beaujolais Villages.  For white wine, Sauvignon Blanc and Soave Classico make for excellent pairings with Penne all Vodka.
Vodka sauce is a creamy tomato and vodka-based sauce that is blended with heavy cream and parmesan sauce which gives it a rosé colour. While creamy, the vodka and tomatoes add a considerable amount of acidity, making Vodka Sauce less rich than Alfredo Sauce.  While the alcohol in the vodka is burnt off when cooked, what remains of the vodka gives the sauce a tangier bite as it brings out flavours in the tomatoes that you would have never tasted before.  Meanwhile, the tomatoes in the sauce sweeten up the sauce, creating a frisky and fun tasting experience.  Finally, pepper flakes are often swirled in to add a kiss of heat.
Acidity is a must when pairing up a wine with Penne alla Vodka as you need to cut through the creamy richness. Without acidity, your taste buds get clogged up and shortly after everything starts to taste flat and boring.  This often causes us to overeat as we want to recapture those first glorious bites of food, but without clearing our palate, we never do.  Hence, we keep shoving food in our mouth in a failed attempt to recapture that initial glory.
Best Wine with Penne alla Vodka
Barbera & Penne alla Vodka Pairing

Barbera, specifically Barbera d'Asti from Italy is my favourite red wine with Vodka Pasta.  The bright fruit flavours of dried cherries, plum and cassis complement the sweetness of the tomatoes  as well as the acidity.  The high acidity of Barbera also cuts through the rich cream and parmesan fats, bringing out the vibrancy of the sauce and the nuttiness of the Penne noodles.
With Barbera d'Asti, you're also going to get subtle hints of herbs, black pepper, mushroom, earth, black pepper and smoke which helps cut through the sweetness of the tomatoes and delivers some delicious rustic charm to your meal.
Chianti Classico & Vodka Sauce Pairing

Chianti Classico is a medium-bodied red wine from Tuscany that features delicious flavours of black and red cherries, strawberry, and plum.  Rich and satiny on the tongue, Chianti Classico complements the creamy texture of the vodka sauce.  You'll also find earthy flavours of herbs, meat, smoke and leather in this Sangiovese-based red wine.
Chianti Classico often features high acidity with medium tannin. The high acidity ensures it will go great with the acidity found in the tomatoes of your vodka sauce, as well as cut through the richness of it. Meanwhile, the tannin found in Chianti will bind with proteins and fats found in the heavy cream and parmesan cheese.  This merging of components will soften the red wine, allowing the juicier flavours to shine through.
Chianti Classico refers to any Chianti that contains 80% or more Sangiovese.  Bottles labelled Chianti only have to include 70% Sangiovese (but you'll find some that are 100%.)  With tomato-based sauces, I often recommend Chianti Classico as you want as much Sangiovese as possible.  The Sangiovese grape delivers a higher amount of acidity versus the other grapes Chianti may be blended with (which are often Merlot or Cabernet Sauvignon).
Primitivo & Pasta in a Vodka Sauce Pairing

Primitivo is an easy-going Italian red wine that is medium in acidity, but low in tannin.  If you're familiar with the Zinfandel grape, Primitivo is it's Italian cousin, featuring less jamminess and more rustic flavours of earth, black pepper, smoke and tobacco.  You'll also find bold flavours of cherry, plum, raisin and blueberry which complement the sweetness of the tomatoes in your Vodka Sauce.
The medium-acidity of Primitivo will keep your mouth clean in between bites of pasta as it will wash all the creamy fats found in the Vodka sauce away.  Meanwhile, the subtle rustic flavours of Primitivo bring some Italian flair to the dish, spicing up the vodka sauce with extra hints of black pepper, smoke, spice and licorice.  Despite the rustic charm, Primitivo is a laid-back red wine that will deliver some fruity refreshment with every sip.
Sauvignon Blanc & Penne alla Vodka Pairing

Sauvignon Blanc is a crisp white wine featuring vibrant notes of lemon, lime and grapefruit, along with herbal notes of grass and herbs.  While Sauvignon Blanc won't complement the Vodka Sauce like a red wine will, it does offer a refreshing contrast against this creamy dish.
The tingly acidity of Sauvignon Blanc easily cuts through the heavy cream and parmesan in your sauce, which ensures each mouthful tastes fresh and sexy.  Meanwhile, the grassy and herbal notes of Sauvignon Blanc complement any seasonings you've tossed in, such as rosemary, garlic, thyme or oregano.
Italy does make Sauvignon Blanc, however, the biggest crowd-pleasers for Sauvignon Blanc often come from Marlborough, New Zealand.  For nearly two decades now, New Zealand has been putting out Sauvignon Blanc that is consistent, steely and fresh, with just the right balance of citrus, minerality and herbs.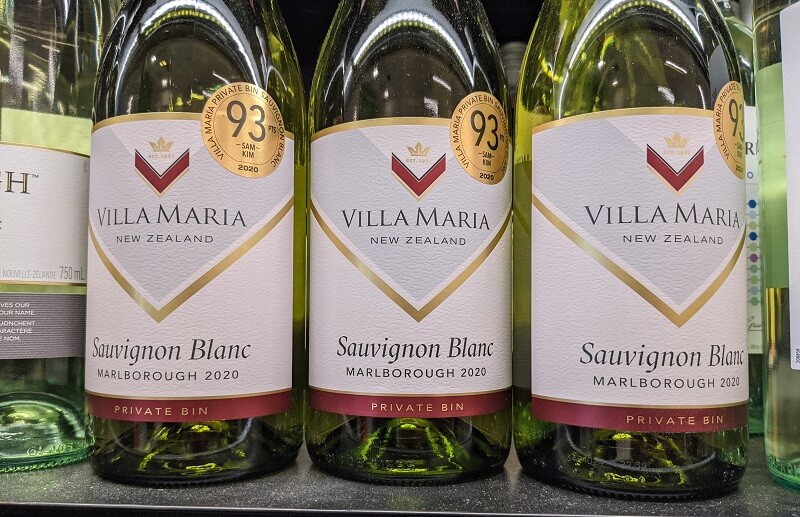 Soave Classico & Pasta alla Vodka Pairing

Soave Classico is an Italian white wine from Veneto Italy featuring crisp notes of peach, apple, melon, and pear that are refreshing against the creaminess of the vodka sauce.  You'll also find interesting notes of chamomile, saline, minerals and herbs that add a kiss of complexity to the pairing.
Soave Classico refers to the original region where Soave was produced in the Veneto region.  Soave Classico tends to have bolder flavours of pear and melon, which holds up to the fruity tomato flavours of your vodka sauce.
Soave Producers I recommend include  Balestri, Catina del Castello, Fratelli Zeni, Inama Masi, Tanellini, Monte Tondo and Pieropan.