Medium-bodied red wines with ample acidity, such as Zinfandel, Beaujolais Cru, Rioja, Sangiovese or Côtes du Rhône pair best with Cabbage Rolls.  Typically, Cabbage Rolls are stuffed with a rice and meat blend and then smothered in a tomato sauce.  Acidic reds are a must as tomato sauce makes tannic reds taste metallic and flat.
I prefer red wines with Cabbage Rolls, however, if you only do white wines, a dry Riesling, Gewurztraminer, or a dry Rosé will be satisfactory.
Any filling could be used for stuffing the cabbage leaves, such as beef, lamb, pork, tofu or mushrooms.  Onions, garlic, rice, barley, potatoes, and various spices often make appearances as Cabbage Rolls are a common dish across a variety of countries such as North America, China, Northern Africa and Europe.  My pairings tend to lean towards Cabbage Rolls stuffed with beef and rice accompanied by a savoury tomato-based sauce.
Best Wine with Cabbage Rolls
Zinfandel & Cabbage Roll Pairing

A medium-bodied Zinfandel is wonderful with Cabbage Rolls as you have a fruity and acidic red wine with plenty of delicious and refreshing flavours of Blackberries, black cherries, raspberry and plum that keep you refreshed in between bites.  You'll also find notes of black pepper, smoke, and spice that mesh perfectly with any spices and meat stuffed into your cabbage rolls.
Aside from fruity, Zinfandel always tastes a touch sweet with a hint of smoke, and I find this feature wonderful with tomato based sauces.  The hint of sweetness in the wine complements the tomato's sweetness, while the smoke mingles with every ingredient and assimilates with every flavour in the dish.
Stick to inexpensive Zinfandel ($16-$30), as higher cost versions come with higher alcohol content and a fuller-body wine that is often syrupy or described as a fruit bomb.  This style of Zinfandel will overwhelm your Cabbage Rolls, leaving you only tasting the wine.
As for Zinfandel producers, I tend to stick to Ravenswood, Edmeades, Ridge and Turley, however, there are dozens of high-quality producers on the market.
Argentina Malbec & Cabbage Rolls Stuffed with Beef

Malbec is more of a full-bodied red wine, and thus, I would stick with Cabbage Rolls stuffed with beef, lamb or venison in this instance.  Malbec's loud flavours of black cherries, plum, and dark chocolate will be too loud for pork and tofu.  If your Cabbage Rolls have a tomato-based sauce, you'll want a Malbec with softer tannin and higher acidity, which is a style you'll often find in Argentina.  If the Cabbage Rolls are drowning in a tomato sauce, I'd shy away from Malbec and select a Zinfandel or one of the other wines mentioned below if you are unsure about your Malbec's tannin to acidity ratio.
Aside from the rich and silky flavours of plum and black cherries, you'll also get a lot of spice, earth and violet in your Malbec, which are exceptional with the tangy and earthy cabbage flavours and stuffing.  The more expensive the bottle of Malbec, the more oak ageing you'll see (As oak costs money), thus, I'd go with young and inexpensive Malbec in this instance.  Zuccardi Q, Catena and Finca Decero are quality Malbec that spring to mind.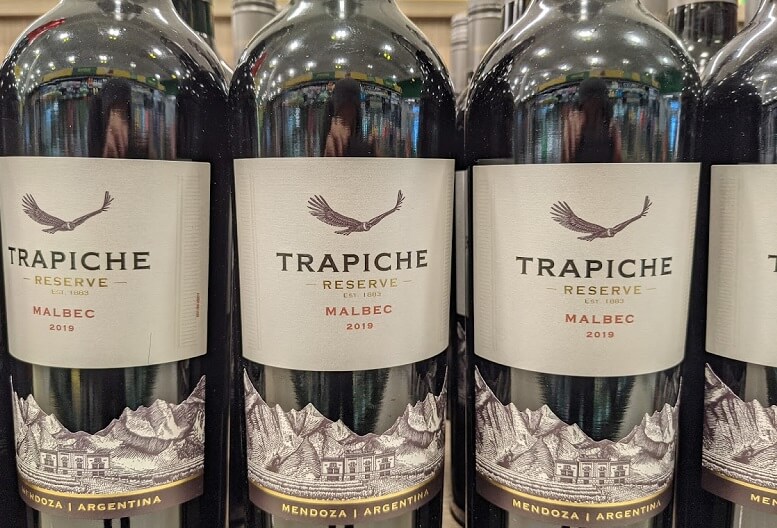 Morgon Beaujolais Cru & Cabbage Roll Pairing

A Beaujolais Cru is fairly similar to a Beaujolais Villages, except you can expect deeper and earthier flavours, and in some instances, age-worthy wines.  There are 10 Beaujolais Crus regions, and Morgon is the most popular in North America as it is the boldest.  Moulin-a-Vent and Côte de Brouilly are two Beaujolais Crus also worth seeking out with Cabbage Rolls but may be more difficult to find in North America.  If no Cru is available, I'd suggest a Beaujolais Villages, but strike a half star off this pairing.
When young, Morgon is bursting with cherry flavours, however, one aged between 5 to 10 years, the wine will develop some earthy flavours that mingle well with the tangy cabbage as well as the meat mix stuffed into your cabbage rolls.  Beaujolais is made from the Gamay grape, but when a Beaujolais Cru ages, it's hard to distinguish it from a Pinot Noir.
High alcohol wines makes spicy foods taste unbearably hot.  Since I  favour a little spice heat in my Cabbage Rolls, the low alcohol content of Beaujolais Cru ensures the wine refreshes my mouth with its red fruit flavours, rather than fueling the fire.
No matter what Beaujolais style you choose, it will go well with Cabbage Rolls, as these are light red wines with plenty of acidity, and refreshing flavours of cherry, strawberries and raspberries.  I suggest a bolder Beaujolais Cru with beef stuffed Cabbage Rolls as the wine will hold up better, but given the wide variety of ingredients stuffed into Cabbage Rolls, any Beaujolais (provided it is not Beaujolais Nouveau), will make for a fantastic pairing.
Finally, Beaujolais is an underrated red wine, and you'll often find delicious and high-quality red wines at a fantastic price point, meaning you won't break the bank experimenting with this red wine.
Chianti Classico & Cabbage Roll Pairing

Chianti Classico is an Italian red wine from Tuscany and is made from the Sangiovese grape.  There are many other Italian wines out there featuring the Sangiovese grape, but I recommend Chianti Classico for those new to wines as it is easy enough to find.  I prefer Chianti Classico as it must be 80% Sangiovese, whereas bottles labelled Chianti only need to be 70% Sangiovese.  You can easily distinguish Chianti Classico as it will have a black rooster on the label.
Chianti Classico will be medium-bodied and high in acidity, which allows it to pair beautifully with a tomato sauce covering your cabbage rolls.  The acidity is balanced nice with tannin, allowing Chianti Classico to pair well with both Tomato Sauce and meat.
For flavours, expect refreshing notes of black and red cherries, along with earth, herbs, leather and spice with Chianti Classico.  In North America, we shy away from Italian wines as the labels may be confusing or we find the wines too 'rustic'.  However, if you enjoy Cabbage Rolls, the rustic earth and herbal notes of Chianti Classico are a must as they complement the cabbage leaves' tangy and unique flavours.
For producers, I always have Ruffino Chianti Classico in my cabinet.  Fontodi, Antinori, Fossi and Dievole have also never let me down.  If you can not find any of these brands, look for that image of the black rooster on the bottle as you will be guaranteed a quality Chianti Classico.
Rioja Crianza & Stuffed Cabbage Roll Pairing

Rioja is a Spanish red wine made primarily from the Tempranillo grape, but you also find Garnacha and other grapes blended in.  When young, Rioja Crianza is loud with fresh flavours of blackberries, cassis, and black cherries, along with hints of spice.  When aged, Rioja is classified as Rioja Reserva or Rioja Gran Reserva and will be more moderate in its fruit flavours, but will have the addition of notes of leather, vanilla, caramel, earth and herbs.
I suggest a fresh and youthful Rioja Crianza over an aged Rioja Reserva as aged Rioja is aged in oak, which adds tannin.  Rioja is not incredibly acidic to begin with, thus if you add tannin to the wine, it's more likely to taste metallic and tinny if you have a tomato-based sauce with your stuffed Cabbage Rolls.  Rioja Crianza will still have a kiss of oak, giving it a toasty appeal.
Muga, Lopez De Heredia, Finca Allende and Tobia all make excellent Rioja, but again, Rioja Crianza is  inexpensive, so I encourage you to experiment.