The best wines to pair with Pad Thai are Riesling, Sauvignon Blanc, Sylvaner, Beaujolais and Prosecco.
Pad Thai is a slightly sweet and mildly spicy noodle dish that frequently includes shrimp, chicken, tofu, chopped almonds, tamarind, fish sauce, and chilli peppers. Crisp and citrusy white wines like Sauvignon Blanc, Riesling, Prosecco, and Sylvaner pair up best as they impart zesty notes of lime and lemon that electrify all the delicious flavours in Pad Thai.
While red wine isn't the best choice for Pad Thai, you could get away with a Beaujolais Villages which has a fruity acidity that offers plenty of refreshment against an extra spicy plate of Pad Thai.  Not everyone is a white wine drinker, so it's always great to have red wine options.   Pinot Noir would also be an acceptable red wine to pair up with Pad Thai.
For Red wine and Pad Thai pairings you'll want to stick to light and fruity red wines high in acidity.  Bold red wines will crush the tofu, shrimp and chicken flavours of Pad Thai.  Bold red wines tend to be higher in alcohol and tannin, and these elements will make your mouth burn on fire if your Pad Thai contains any spicy heat.
Best Wine with Pad Thai
Dry Riesling & Pad Thai Pairing

Riesling is an incredibly food-friendly wine, and with Pad Thai containing so many ingredients, Riesling works quite well with the dish.  What makes Riesling so food friendly is its high acidity. A dry Riesling has an electric acidity that zips across your taste buds  and highlights all the individual ingredients in your dish. Thus, everything stands out, from the tasty bites of shrimp, tofu and chicken to the bean sprouts, crushed peanuts and sauced up noodles.  Because you end up tasting so much, you are satisfied earlier, and you'll never end up shovelling Pad Thai in your face like some kind of monster.  Instead, you'll take your time and enjoy the experience, soaking in all the delicious elements of the dish.
If your Pad Thai has some extra heat to it, try an off-dry Riesling, which has a kiss of sweetness that will cool things down.  Many folks in North America are turned off by Riesling, as they think it's going to be too sweet, but an off-dry Riesling means there's only a hint of sugar in the wine.  As such, you get a brilliant beverage that tastes like lemon, lime, green apple, peach and mineral that extinguish the fire in the chilli peppers that burn your mouth.  This allows you to taste the sweet earthiness of the chillies, making for an incredible pairing.
Sauvignon Blanc & Pad Thai Pairing

Sauvignon Blanc is a wonderful pairing with Pad Thai, provided the Pad Thai is not spicy.  While any Sauvignon Blanc will go great with Pad Thai, I prefer a New Zealand Sauvignon Blanc from the Marlborough region. Here you have wonderful grapefruit like acidity that imparts extra flavour on your dish. There's also an herbaceous element that comes along with Sauvignon Blanc that complements the bean sprouts and other veggies tossed into your Pad Thai.
Sauvignon Blanc also has a cold and steely personality, which offers a refreshing contrast to the warm and inviting presence of Pad Thai.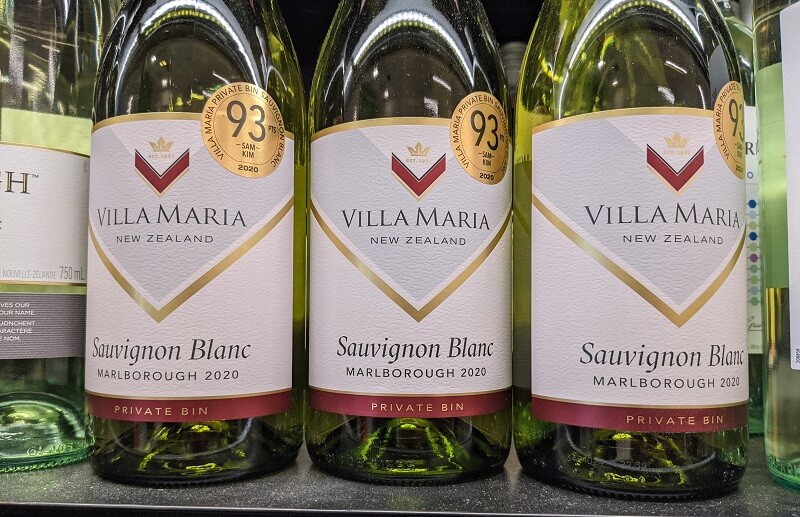 Silvaner & Pad Thai Pairing

Silvaner (Sylvaner in France) is a German white wine that delivers peach, pear and passion fruit flavours contrasted by subtle notes of mineral, smoke, grass and spice. On the palate you have an oily texture that follows through with a crisp acidic finish.
The peach, pear, and passion fruit flavours of Silvaner, along with its crisp acidity, help revive your taste buds from the heavy carbohydrate content of Pad Thai. All of those noodles, combined with the sugar, fish sauce, and tamarind, create a flavour traffic jam as all of those delicious flavours collide. This is easily remedied by Silvaner's acidity, which washes those clogging flavours from your cheeks and tongue, making room for new flavours to develop.
Silvaner is also inexpensive, making it perfect should you be ordering Pad Thai as takeout (as a Thai restaurant is unlikely to serve Silvaner by the glass or bottle).
Prosecco & Pad Thai Pairing

Prosecco is an Italian sparkling wine that features refreshing flavours of apple, pear, melon and lemon.  You'll also find complementary flavours of almond, toast and yeast that blend well with the chopped nuts and noodles in your Pad Thai.
The beauty of Prosecco is its palate cleansing acidity and bubbles.  With Pad Thai, the first bites are the most delicious, but afterwards, it all starts to taste the same as your taste buds become clogged.  The bubbles in Prosecco, along with its crisp acidity, remedy this situation making every bite taste delicious.  This makes you eat less, as you are satisfied earlier, allowing you to save some delicious Pad Thai for a midnight snack or for tomorrow's lunch.
Beaujolais Villages & Pad Thai Pairing

Fun and fruity, Beaujolais is never a letdown when paired with fresh and light dishes. With Pad Thai, you have a meal just light enough to not crush Beaujolais' fun-loving spirit, thus you taste the bright cherry, strawberry and raspberry flavours of the wine, along with the chicken shrimp and tofu tossed into your Pad Thai.  While these fruit flavours of Beaujolais won't complement the protein in your Pad Thai, the wine does have a subtle earthiness and spiciness that will complement the bean sprouts or tamarind used in the dish.
The bright acidity of Beaujolais also does a wonderful job of keeping the palate cleansed and refreshed, along with highlighting all the individual flavours, such as nuts, scallions, bean sprouts, cabbage or carrot in your Pad Thai.  Finally, low in alcohol, Beaujolais Villages will be a good pick with spicier Pad Thai.