Cabernet Franc pairs best with heavier vegetarian fare such as vegetarian lasagna, meatless chilli, lentil soup, grilled vegetable sandwiches and Mediterranean Pizza topped with goat cheese, broccoli, olives and fire-roasted red peppers.  Cabernet Franc is also amazing with baby back ribs, beef fajitas, pulled pork sandwiches, roasted chicken, lamb gyros, corned beef, Philly cheesesteak, and deluxe pizza topped with sausage, bacon, black olives, green bell peppers, pepperoni and mushrooms.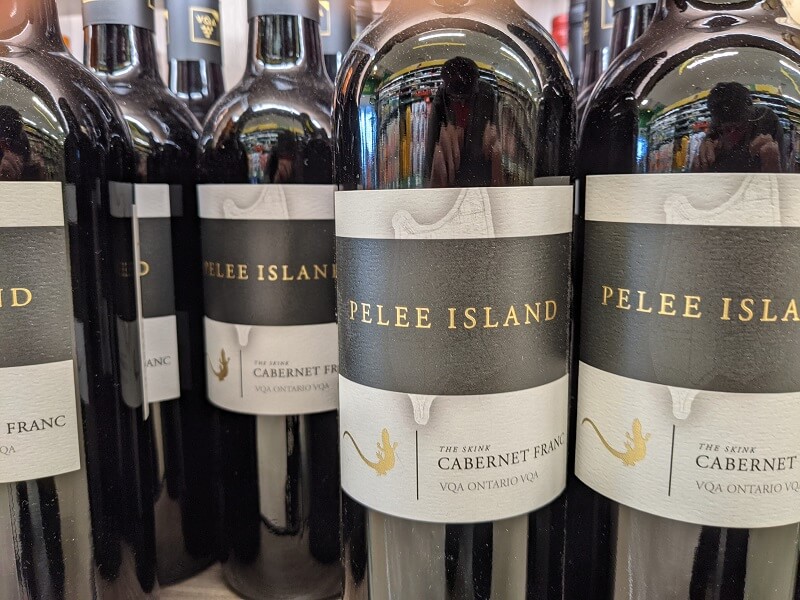 Good single varietal Cabernet Franc is difficult to find.  The wine is difficult to grow as it is very demanding.  Plus, if you pick the grapes too soon, the wine is undrinkable as it will be overrun with green flavours.  Originally used as a blending grape, most winemakers use the grape to create Bordeaux-style red wines with great success.  However, as a single varietal, I find many winemakers rarely hit the sweet spot.  The perfect Cabernet Franc is high in acidity, medium-bodied and bright with rich flavours of blackberry, currant, raspberry, cherry and plum.  The wine should also be subtle with notes of green herbs, green bell pepper, green olives, tobacco and black pepper.
Cabernet Franc is produced all over the world, and my preference is for the Niagara region producers such as Tawse and Pillitteri Estates.  Other great producers of Cabernet Franc include Benziger, Crocker & Starr, Pride Mountain, Columbia, Bernard Baudry, Signorello, and Chateau de la Grille.
Best Food with Cabernet Franc
| Type | Varietal | Food | Rating (out of 5) |
| --- | --- | --- | --- |
| Red Wine | Cabernet Franc | Philadelphia Cheesesteak | |
| Red Wine | Cabernet Franc | Corned Beef and Cabbage | |
| Red Wine | Cabernet Franc | Sauerkraut | |
| Red Wine | Cabernet Franc | Vegetarian Pizza | |
| Red Wine | Cabernet Franc | Rillettes of Pork | |
| Red Wine | Cabernet Franc | Terrine of Pigeon | |
| Red Wine | Cabernet Franc | Pigeon Pâté | |
| Red Wine | Cabernet Franc | Goose Pâté | |
| Red Wine | Cabernet Franc | Moroccan Beef Stew | |
| Red Wine | Cabernet Franc | Cabbage | |
| Type | Varietal | Food | |
Cabernet Franc & Vegetarian Pizza Pairing

Cabernet Franc is an underrated oddity in the wine world as it has the acidity and elegance of Pinot Noir, the structure of a Cabernet Sauvignon, and the black pepper profile of a Rhône red wine.  With it being such a difficult grape to grow, I feel that many people had bad examples and have been turned off by it.  However, when you find that perfect Cabernet Franc, your life will change as this is an incredibly versatile wine.
Cabernet's high acidity and medium tannin ensure it will go along basically any pizza from Pepperoni, BBQ Chicken, or Deluxe.  I, however, enjoy it the most with a slice of Vegetarian Pizza.  Right away, the green bell pepper and green olive flavours complement the green flavours on your Pizza. 
The herbal flavours of Cabernet Franc are also spectacular with any basil, rosemary, or oregano sprinkled on your slice.  For me, the biggest win is the wine's refreshing red and dark fruit flavours.  These velvety flavours merge perfectly with the cheese, tomato sauce, and crust, providing a nice contrast while keeping your taste buds clean in between bites.  If you've tossed a little goat cheese on your Pizza, the unity between wine and food becomes even more incredible!
Cabernet Franc and Grilled Veggie Wraps Pairing

The first Cabernet Franc I fell in love with was from Chateaux Des Charmes.  I was a poor student at the time working as a bartender, and I lived off of grilled veggie wraps in the summer, which I paired with a glass of Cabernet Franc.  I just adored the green pepper, and olive notes of the wine complemented the grilled eggplant, zucchini and bell peppers in my wraps.  I also loved how the herbal notes of Cabernet Franc infused their flavours into the breading, goat cheese and grilled onions of my grilled veggie wrap.
Furthermore, the high acidity of Cabernet Franc made for a refreshing experience as the dark cherry, plum, raspberry and blackberry flavours washed away any fats from the olive oil I used in my marinade.  This allowed for each bite to taste fresh and vibrant as a summer's day.
Vegetarian Lasagna & Cabernet Franc Pairing

The tart and rich blackberry, red cherry, plum and raspberry flavours of Cabernet Franc are a refreshing contrast to the earthy and cheesy flavours of a Vegetarian Lasagna.  Meanwhile, the bell pepper, green olive, and herb notes go well with tomato sauce while complementing the layers of noodles, peppers, mushrooms, zucchini, eggplant, or any other veggies you may have thrown in there.
Due to its high acidity to medium tannin ratio, Cabernet Franc will match up nicely with any tomato-based dish, like Eggplant Parmesan, Pasta Primavera, Bruschetta, or Baked Beans.  High acidity is crucial when pairing wine with tomato sauce, as the high acidity of the tomatoes will make tannin in the wine taste flat and metallic.
Cabernet Franc & Roasted Chicken

Cabernet Franc is medium bodied red wine allowing it to pair with Roasted Chicken.  The bright fruity flavours of cherry, plum and strawberry offer a refreshing counterpoint against the crispy skin of your roasted chicken.  Chicken often can end up dry, but with a glass of Cabernet Sauvignon, you're only one sip away from solving that problem.
The herbal notes of Cabernet Franc complement any herbs used in roasting your chicken.  Or, if you've brushed a BBQ sauce on your chicken, you'll find the high acidity of Cabernet Franc getting along great with the smoky and sweet sauce.  Finally, Chicken Teriyaki and Butter Chicken are also exceptional with Cabernet Franc.
Cabernet Franc & Meatloaf Pairing
Meatloaf was a dish originally invented to stretch out your grocery bill as you often took leftover meats and blended them with breadcrumbs, eggs, milk, herbs, and chopped up vegetables to make a delicious savoury loaf.  As Meatloaf is often cooked to well-done, you'll find it's often dry, and hence, many recipes call for a ketchup-based sauce to be brushed on, which also adds additional flavour.
Cabernet Franc will go amazing with the tomato-based sauce on your Meatloaf due to the wine's high acidity and velvety fruit flavours.  Or if you serve your Meatloaf naked, the herbal, green olive and green bell pepper flavours complement veggies chopped up and mixed in with your Meatloaf.