Chicken Fried Steak pairs best fruity red wines with ample acidity, such as Baco Noir, Grenache, Sangiovese, Zinfandel, and Beaujolais Villages.  A peppery Syrah from the Rhône Valley of France also makes for a wonderful pairing.  For white wine and Chicken Fried Steak pairings, Gewurztraminer and Grüner Veltliner will help deal with the fried steak flavours while imparting their unique and delicious flavours found in the wine.
For the record, Chicken Fried Steak does not contain any chicken.  The dish is made from a tenderized cut of beef steak and is only called Chicken Fried Steak as it's cooked like you'd expect homestyle fried chicken to be cooked (some places call it Country Fried Steak).  The flattened Steak is first dredged in flour and then an egg wash.  The Steak is dipped in flour once more before being fried in a shallow pan of oil.  The dish is then smothered in a rich pan gravy before being served to you hot and ready to eat.
Best Wine with Chicken Fried Steak
Chianti Classico & Chicken Fried Steak Pairing

The Steak used in Chicken Fried is fatty, however, after being tenderized, coated in flour, and deep-fried or pan-fried, it's not going to be as beefy as your traditional Steak.  Many of the natural flavours are going to be blasted out when it's fried and replaced with the flavours of the oil you cooked it in, along with the breading and gravy.  Thus, you don't want to pair it up with a powerful red wine, such as a Cabernet Sauvignon, as the flavours will swamp the flavours of the gravy and beef.  You also need a wine with some acidity to cut through the breading and all that deep-fried goodness.
Chianti Classico is a medium-bodied Italian red wine made from the Sangiovese grape (at least 80%), which has a brilliant acidity that cuts through the deep-fried breading of Chicken Fried Steak.   Chianti Classico also features plenty of tannin to deal with the protein of the Steak.  Tannin and protein go well together as the tannin breaks down the protein molecules, making the beef taste beefier.  Meanwhile, the protein softens the tannin and unleashes the juicy flavours of cherry, plum and strawberry that you'll find in Chianti Classico, making the wine taste smoother and velvety on the tongue.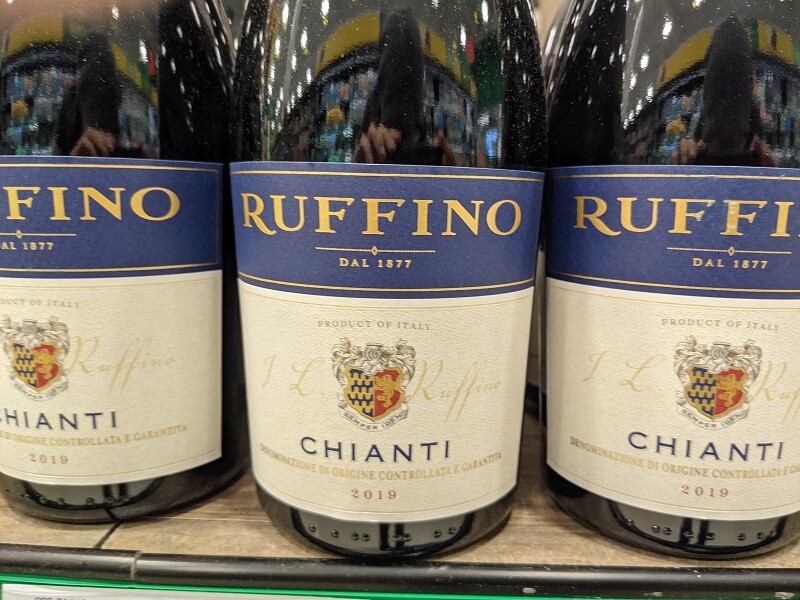 Chianti Classico also has an herbal or earthy characteristic that adds a bit of rustic charm to the Chicken Fried Steak, which complements the gravy.  While many of us love these flavours of herbs, leather, smoke and spice with Italian food, it might not be as appealing with North American country food to others.  In North America, we tend to like our wines more fruit-forward and oak-aged to bring out notes of vanilla, chocolate and toast.  If that's the case with you, seek out the regular labelled 'Chianti', which may feature less of the Sangiovese grape and more Merlot and Cabernet Sauvignon, which will iron out that rustic charm..
Beaujolais Villages & Chicken Fried Steak Pairing

Chicken Fried Steak is cooked to well-done, meaning the flavours aren't as beefy as you'd expect with a regular grilled steak.  All of that beefy flavour has been replaced by the pan-fried grease, along with an earthy gravy which is why an acidic, but fruity red wine like Beaujolais-Villages pairs up so well.
With Beaujolais Villages, expect cherry, strawberry and raspberries to shine through, that keep your mouth refreshed as acidic, fruity flavours wash away any grease that clings to your taste buds.  You'll also find notes of black pepper, earth, and spice that complement the gravy-like flavours.  If you want to step up this pairing a half star, seek out a Mouton or a Moulin-à-Vent Beaujolais Cru, which will have even deeper complexity with their flavour profile.
No matter what style of Beaujolais you choose, expect something a little fun and fruity, and refreshing as well as inexpensive.  Beaujolais Cru, in particular, offers a lot of value for the price you pay, and some often rival the best characteristics of an outstanding  Pinot Noir.
Baco Noir & Chicken Fried Steak Pairing

Baco Noir is medium-bodied red wine grown in New York and Niagara regions that features rich flavours of blackberry, blueberry, plum, meat and smoke.  High in acidity but also quite rustic, Baco Noir keeps your mouth refreshed against the greasiness of Chicken Fried Steak while simultaneously adding its smoky and black pepper charm to the gravy and meat flavours.
Baco Noir is very inexpensive and makes a great pairing with comfort food, such as Country Fried Steak, due to its high acidity, low tannin and moderate flavours of fruit and rustic earth.  With Chicken Fried Steak, it's best to stay away from expensive red wine as the dish will never improve the flavours of the wine. With Chicken Fried Steak, all the real flavour of the beef has been fried out and replaced with delicious, but unremarkable flavours of oil, flour and gravy.  Thus, you want to stick to acidic red wines, like Baco Noir, that can wash the breading and oils away from your taste buds.
Syrah & Chicken Fried Steak Pairing

Syrah and Shiraz are the same grape.  It's just that with Syrah, you'll find an old-world style of Shiraz where the focus is less fruit-forward, and the wine has a savoury, smoky edge that has a meatier and bacon fat flavour.   The savoury and meaty flavours of Syrah are pleasant with the gravy coating your Chicken Fried Steak, and add notes of black pepper, herbs, smoke and spice to the mix.  You'll still get plenty of blackberry, plum, raspberry and blueberry notes with Syrah, but they are balanced with the savoury notes, including game, rosemary tobacco and tar.
In North America, Syrah is often overlooked as they normally come from France, and to many, anything French on a label seems either expensive, confusing and complicated.  It's easy to fall under the spell of an Australian Shiraz, where colourful labels featuring animals charm you into purchasing the bottle.  With that said, a medium-bodied Australian Shiraz will also be fantastic with Chicken Fried Steak, and you'll find a jammier red wine featuring bolder notes of blackberry, raspberry and plum.  The wine's savoury side is switched to something more sweeter with oak ageing that adds crowd-pleasing flavours of dark chocolate and vanilla.
From a food and wine pairing perspective, Syrah complements the gravy and meatier flavours a lot better.  However, from a popularity perspective, a jammy but peppery Shiraz will win out every time.
Grüner Veltliner & Chicken Fried Steak Pairing

Because Chicken Fried Steak is 99% red meat, it might seem unusual to pair a white wine with the meal.  But remember, Chicken Fried Steak is a dish where we are removing a lot of flavour and replacing it with flour, oil and gravy.  Even if you were blindfolded, you'd instantly recognize you were eating a steak if given a bite.  With Chicken Fried Steak and being blindfolded, you'd second guess yourself if it was beef, pork or even chicken.
Grüner Veltliner is a clean and crisp white wine with the fantastic flavours of lemon, lime, lychee, peach, mango, apricot or green apple.  However, what separates Grüner Veltliner from other white wines is that it has an amazing White Pepper aroma.  The beef and black pepper is an ongoing romance that has been going on for centuries, which makes Grüner Veltliner a suitable white wine to pair up with Chicken Fried Steak as it brings these aromas to the table.
In reality, due to Chicken Fried Steak not tasting incredibly bold or beefy, any crisp and acidic white wine will pair just fine with Chicken Fried Steak.  Riesling, Sauvignon Blanc, Gewurztraminer and Sparkling Wine will all cut through the oil your Chicken Fried Steak was fried in and wash away the grease just fine.