Expressive white wines like Chardonnay, Riesling or Gewürztraminer go best with Turkey as they match the weight of Turkey while imparting refreshing fruity flavours.  For red wine, light and fruity wines low in tannin like Beaujolais and Pinot Noir pair best with Turkey as they won't overwhelm the subtle flavours of the meat.
Most of us in North America tend to only eat Turkey at Thanksgiving or Christmas, followed up by a week's worth of Turkey Soup and sandwiches.  The pairings below apply mainly to Holiday Turkey feasts, however, I also cover Turkey Sandwiches and Turkey Sausages as these dishes are a popular enough to be eaten all year long. (I know I certainly eat a lot of cold Turkey sandwiches when I need to grab something quick)
Best Wine with Turkey
Chardonnay and Turkey Pairing

My top choice with Turkey on its own is a full-bodied Chardonnay which has seen some oak ageing. The oak adds in toasty vanilla and butterscotch flavours which liven up the neutral Turkey flavours.  On top of that, you'll get plenty of lemon, apple, pear and peach flavours from Chardonnay that will serve up plenty of refreshment, especially if the Turkey is overcooked and dry.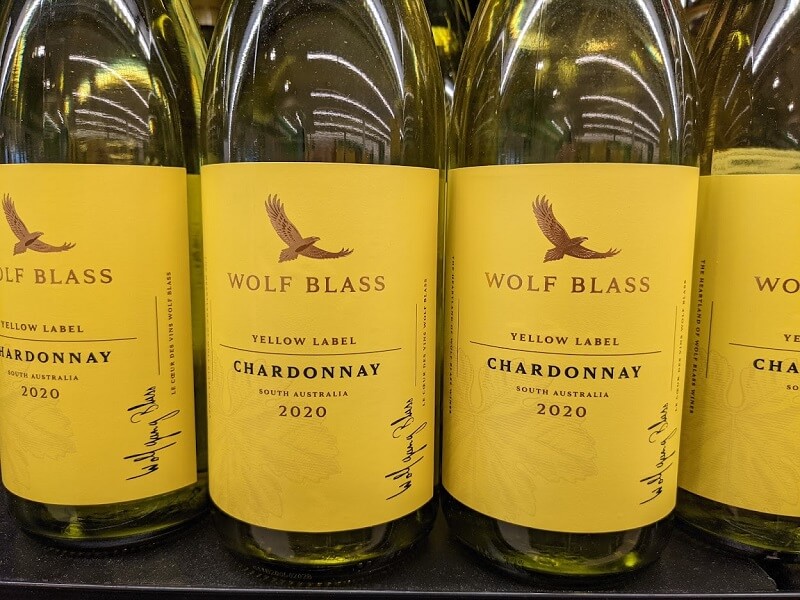 Meanwhile, the buttery texture of the Chardonnay is a perfect match for the savory flavors of roasted turkey. The creamy notes of the wine are complemented by the salty, succulent flavors of the meat, resulting in an incredibly flavorful combination. For a truly memorable experience, pair your dish with an oaked Chardonnay; its subtle oakiness brings out even more depth in this classic duo. With just a splash of acidity, it's easy to see why turkey and chardonnay are a must-try pair.
Riesling & Turkey Dinner Pairing

Riesling is the best wine to bring to a Turkey Dinner where there are a wide range of foods on hand.  As mentioned above, Chardonnay pairs better with Turkey, but Riesling matches up better with all the side dishes we all love and adore.
Riesling is a crisp and zingy white wine that is incredibly food-friendly.  With sharp flavours of lemon and lime, plus a teasing minerality, Riesling has no issue jazzing up the boring flavours of Turkey.  Meanwhile, the mineral notes complement the earthier flavours found in the Turkey along with any gravy.  Meanwhile, the acidity in Riesling cuts through all the fats and carbohydrates we love to indulge in with Easter, Thanksgiving and Christmas Turkey dinners, such as mashed potatoes, glazed carrots, and cauliflower drizzled with melted cheese.
Riesling can range from dry to sweet. For Turkey dinners, I always bring an off-dry Riesling which is slightly sweet.  I find off-dry hits all the right notes to be a crowd-pleaser, as the sweetness is just noticeable enough to taste pleasing but not overwhelming.  Finally, the sweetness complements the many side dishes that are often a touch sweet during the Holiday season.
Gewürztraminer & Turkey Sandwiches Pairing

An aromatic Gewürztraminer is refreshing white wine to enjoy with Turkey sandwiches made over from leftovers.  Gewürztraminer is incredibly aromatic, with incredible flavours of lychee, rose petals, black pepper, peach and apricot.  All of these flavours of the wine are naturally infused into the neutral turkey meat, making turkey leftover exhaustion a thing of the past.  With this delicious combination of food and wine, you will look forward to your next turkey sandwich.  Finally, with its oily texture, Gewürztraminer gets along perfectly with the mayonnaise slathered on your Turkey Sandwich.
Gewürztraminer is high in alcohol, so if enjoying this wine at lunch, stick to a smaller portion size if you are required to be back at the office in the afternoon.
Pinot Noir & Turkey Pairing

For red wine and Turkey, my number one choice is a mid-ranged Pinot Noir. Pinot Noir is a light red wine that is dreamy with tingly flavours of field strawberries, raspberry and cherry.  Pinot Noir also has an earthy kiss hidden beneath the depths that mingles with the savoury but subtle turkey flavours.
The problem with Pinot Noir is that it is expensive, which is why I wouldn't recommend bringing it to Holiday feast.  While you can buy plenty of Pinot Noir for under $25, it's often artificially manipulated and often tastes like the wine has been watered down with strawberry Kool-Aid.  $40 and up is the sweet spot for good Pinot Noir, and if you have a dozen or more red wine drinkers at your dinner, this can be expensive.
The romantic appeal of Pinot Noir tends to go over people's heads if they are new to wine, and I feel like this is a waste of money and wine, which is another reason why I wouldn't recommend it for a festive meal.  However, for those who just want Turkey and perhaps some dressing, Pinot Noir is an exceptional pairing.  The cherry and cranberry notes of the red wine soak their way into the turkey meat, making for a beautiful marriage.  Meanwhile, the notes of truffle and forest floor transport you to a warm autumn afternoon stroll through the forest, which is reminiscent of the harvest season of Thanksgiving.
Cariñena & Dark Meat Turkey Pairing

If you're a dark meat lover, a Spanish Cariñena pairs up perfectly with the dark meat of roasted Turkey.  Cariñena is a rich, fruit-driven red that adds cranberry sauce like notes to the pairing when paired with Turkey. Cariñena also has earthy notes that make it a great marriage with the dark meat's earthier flavours, along with the turkey gravy.  Cariñena is not recommended for the white meat of Turkey as the bold flavours will overwhelm the meat.
Cariñena goes by other names such as Carignan in France, or Carignano and Carignane.  These versions tend to be full-bodied and not suitable for Turkey.
Beaujolais Villages & Turkey Sandwiches Pairing

A French Beaujolais Villages is the classic picnic wine, thus it's no surprise it is an amazing pair with a Turkey Sandwich.  Low in alcohol, Beaujolais is bursting with fresh raspberry and cherry flavours.  You'll also find earthier notes as you move up in quality and price with Beaujolais, and these earthier notes complement the darker meat of Turkey.
I also find Beaujolais Villages the perfect red wine to Turkey dinners if everyone attending is new to wine.  Beaujolais Villages is fun and fruity, making it a crowd-pleaser, and the wine is never distracting, allowing you to enjoy the fun at hand.  You'll also find Beaujolais acidic, meaning it will pair up with many side dishes.  The tart acidity of Beaujolais Villages also cleanses your palate in between bites, making every bite of turkey or spoonful of  mashed potatoes taste its best.
Rioja Crianza & Turkey Sausage Pairing

A Spanish Crianza Rioja is a fantastic red wine to pair up with Grilled Turkey Sausages.   Crianza means the Rioja hasn't seen much in the way of oak ageing.  Thus, you get a tart and refreshing red wine that is loaded with notes of blackberry, cherry, plum, earth and spice.  Furthermore, turkey sausage is much lower in fat than pork sausage, thus, you don't want bold and tannin-loaded red wines.  Since Rioja hasn't seen much in the way of oak ageing, it has the perfect amount of soft tannin to bite into the grilled flavours of your turkey sausage.